Who knows that old song? "Who's Afraid of the Big Bad Wolf?" Google it, it's a catchy little tune. It's also the inspiration for today's #WonderWednesday post. That, and @heartiehallmark on Twitter; this was her request. Now that you've looked it up, sing MY version with me: "Who's afraid of the big black hole, the big black hole, the big black hole?" Ah, the Big Black Hole of Hope Valley. Many a noble character hath stood in its shadow, only to be swallowed whole by its jaws. I remember when I first started watching WCTH, Seasons 1 and 2 were on Netflix, so I binged a show for the first time. I even said out loud, "Wow! I'm so impressed! They kept so many of the same kids!" Two episodes later, most of them were gone, and lots of their parents had already disappeared, even Cat Montgomery.

There are so many vanished Coal/Hope Valley citizens that I have loved dearly, and have often wondered what they'd be doing if they had stayed on the show. If I absolutely HAD to pick a favorite, the people I miss the most, it would have to be The Dunbar-Graves Family. That might have something to do with the fact that Laura Bertram, who plays Mary, was the very first Skype interview I ever had her on Hooked Heartie. Here's the link to that interview if you're interested, and you missed it:
https://hookedheartie.com/wonderwednesday/wonderwednesday-hooked-heartie-hall-of-fame-food-connector/


But even if she hadn't been, I just love these characters. My interest was piqued by DeWitt from the moment he entered the saloon; he was the only miner who was polite to Elizabeth without hitting on her. Then he helped Mary pick up the toppled groceries, AND saved her from an embarrassing situation by paying for her purchases. He even saved her pride with that cover story of her cooking him supper; or was that just a REALLY clever rouse to get her on a date, because it worked! That's when my heart started melting around the edges for these two. It wasn't long before it was in full meltdown mode, just at the sight of them. Mary reminds me a lot of myself, in a way. I don't suffer from a shy personality the way Mary did. But I'm short like she is; and before I had four children, I had a pretty slight frame. 😉 So, call me old-fashioned, but I love feeling cared for, but even more so, protected. My husband is a whole foot taller than I am. His arms are, in the words of Christopher Reeves in "Somewhere in Time": "nine feet long". His arms fully envelop me when he hugs me. That's what I feel Mary's relationship was like with her husband. They talk about what a big, strong man he was, and how he adored Mary. All of a sudden, not only is the love of her life gone, but her protector, her safety and security, has vanished with him. She's left incredibly vulnerable; she's trying to move on the best she can by just putting one foot in front of the other. Enter a man who isn't quite as big in body, but his heart must be, because he's instantly smitten! They were so cute: her shyness, his patience.
Photo credit: pinterest.com

And speaking of patience, can we talk about what Caleb put poor Mr. Graves through?! Caleb, with his typical protective kid instincts/bratty and selfish distancing techniques, however you want to look at it. I can see both sides. I lost my father too, but I was a grown adult, with a husband, and a child. I can't imagine losing a parent in my formative years. And it's obvious the man was the boy's hero. Caleb worshipped his pa, and no one was taking his place! He did his best to get rid of DeWitt, but DeWitt wouldn't give up. Back then, it was perfectly acceptable to rule with an iron fist, to declare, "My word is law!" But DeWitt doesn't operate at all that way. He gently persisted, and eventually wins Caleb over with his kindness, sweet gestures, and teaching moments. It was a story begging to be continued!

That's why I was ecstatic to see all three of them back in Season 2, and even more ecstatic that we got to see their wedding. No two people looked more in love…Jack and Elizabeth were on unsteady ground at the time, and Lee and Rosemary weren't serious yet. And the icing on the cake: Caleb was excited to have a father again.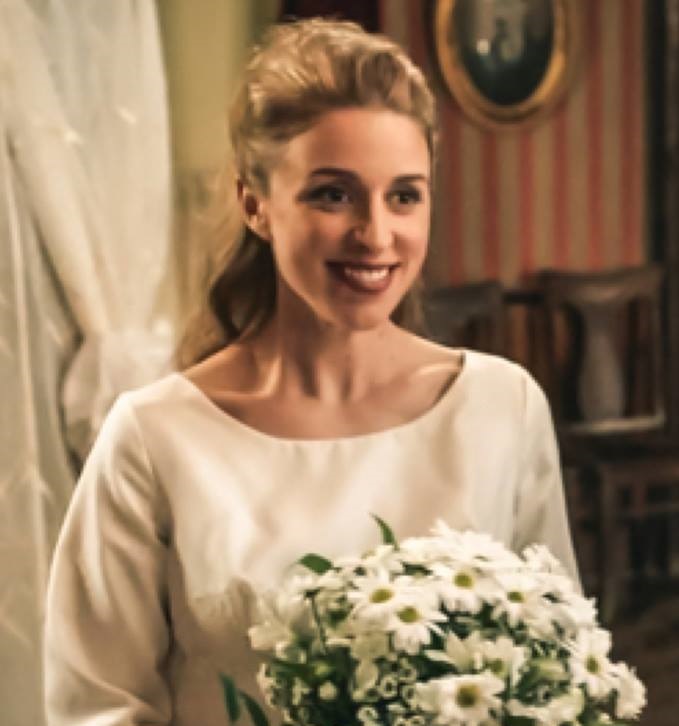 Photo credit: laura-bertram.com

So, where are they now? Hmm…good question. I bet they moved just one town over because DeWitt felt more comfortable sticking to mining when timber took over, but they come back for visits often. They can afford it because DeWitt has become second in command at the mine. Mary has had two more little ones, a boy and a girl, named DeWitt Jr., and Hannah. Of course, Caleb is grown; my guess is he'd be 17 or 18. Like most young men his age, he's fighting in World War I. He left a beautiful girl named Lydia behind, and is determined to marry her when he comes home from France. And he DOES make it home!

So how does that sound? What do you think happened to the Dunbar-Graves family? Who would you like me to speculate about next? Let me know in the Facebook comments. You've got time until next Wednesday. But I'll see you before then – on Friday to be exact. Take care everyone. I hope you're okay. I hope you're safe, and being able to find some happiness in these tumultuous times. Just remember something for me? You are beautiful, you are smart, you are worth it, you are enough. This is Hooked Heartie, signing off. May your heart let your hope blossom!
(Visited 158 times, 1 visits today)
Facebook Comments