Happy Friday, all! To quote Shane McInerny from Signed Sealed Delivered, "It's a red-letter day!" I am without kids for 24+ hours "for the first time in forever", to quote another movie. 😉 Even though it might result in me falling asleep at 8:00 pm, it's still thrilling. My dear in-laws took my children for the night, so it's my first free night in a long time. I'm excited!

Before I get to the topic of today's Flashback Friday, I have a small favor to ask of you, my dear readers. You've been so supportive of my little blog, and of so many of my endeavors. Well, I have another endeavor I'm trying to get off the ground, and I'm calling on the Heartie army. Some of you may remember that fun parody music video I posted a while back. If you haven't already heard, I entered that video in Jen Lilley's talent contest Voices That Give, (at the prodding of friends). I made it past the first two rounds, but now I'm in danger of elimination. There are two days left in the round. I'm in 6th place in my group, and I have to move to 1st to advance. Can you help me? Please? The first vote is completely free, then you can purchase votes for $1 per vote, if you choose to. Then if you can share it with all your friends and family, and encourage them to use their free vote, I would greatly appreciate it! I went into this half-heartedly, but now I'm a little emotionally invested, I admit. Here's the link. Thanks in advance!

https://orbiiit.com/entry/4860


NOW! Moving into tonight's theme. If you remember Wednesday's post, I told you there was going to be a change today. I know several of you were expecting the final installment of Rosie and Elizabeth's friendship today, but there is a reason. It's all summed up in a line Clara tearfully mutters to Jesse right before this shot is taken: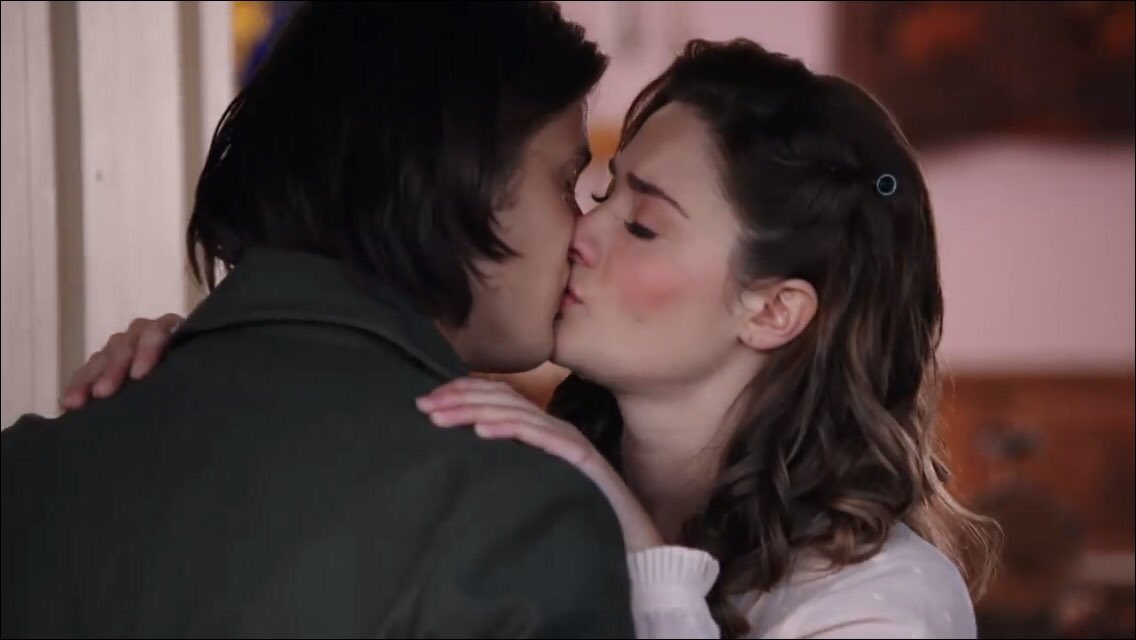 Photo credit: Eva's Twitter


"It's my anniversary." Yep! Tomorrow will make 12 years since these two crazy kids tied the knot.


So, since I'm feeling a bit nostalgic, I thought it would be nice to take a closer look at the #TeamClasse wedding.
Photo credit: pinterest.com

First of all, I will admit, I thought at first that Clara was not being very smart about "taking a break" with Jesse, even though I wasn't exactly crazy about Mr. Flynn at the time, not with THAT hair. 😉 I thought, "Get over it! Don't throw this away!" But I stopped myself, and I thought back to when Clara was helping Elizabeth through her grief, and declared that she felt cheated because she lost her husband only days after being married. I think how nostalgic I get every year, and I wonder how heartbreaking memory lane would be if my husband wasn't here; not to mention if our lives together had barely started.
So then, I totally grasped Clara hesitance right before her wedding. Grief hits you in the oddest moments, then there's the fear that history will repeat itself, and the thought of losing ANOTHER spouse is unbearable; unbearable enough to make a bride-to-be retreat into a shell. That's what made Clara's moment at the start of the aisle all the more powerful! All that history, all that emotion, all that doubt, all that hope comes bursting forward in with the declaration of one word: "Absolutely!" Clara has put all that sadness behind her, and is looking toward a glorious future with the second love of her life. If nothing else the look of love and awe upon seeing her in her dress for the first time is enough to drive any woman down the aisle and into his arms. I can't wait to see Mr. and Mrs. Flynn celebrate THEIR anniversary.
Photo credit: pinterest.com

And this is where I leave you. I hope you have a marvelous weekend, filled with that same kind of hope that fills Hope Valley. Take care of yourselves. Love to you all! This is Hooked Heartie, signing off. May your heart let your hope blossom!
(Visited 84 times, 1 visits today)
Facebook Comments